The Why
St Vincent's College has undertaken a project masterplan to achieve the following necessary goals:
To meet the contemporary academic, emotional, social, cultural and physical needs of students and staff.
To provide a whole school internal gathering place to build and enhance the community.
To provide improved Music and Drama facilities fit for purpose and acoustically treated.
To address accessibility and inclusivity of movement through the site and between all buildings.
To improve well-being through sport and physical activity within the daily curriculum, on-site
To provide essential sports facilities that are safe & compliant with current building and competition standards.
To provide a sports curriculum/facilities that are not weather dependent.
To provide adequate administration space suitable for contemporary work environments
To respectfully refurbish the heritage buildings for better utilisation, integration, and compliance.
To provide open spaces for learning, relaxing, recreation and mindfulness for day and boarding
Existing Site - 3d view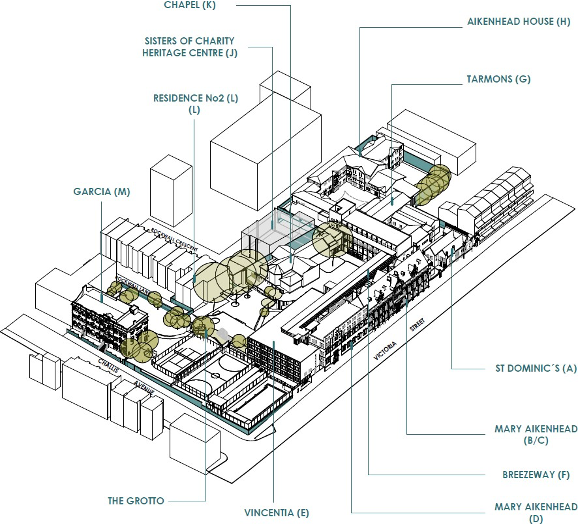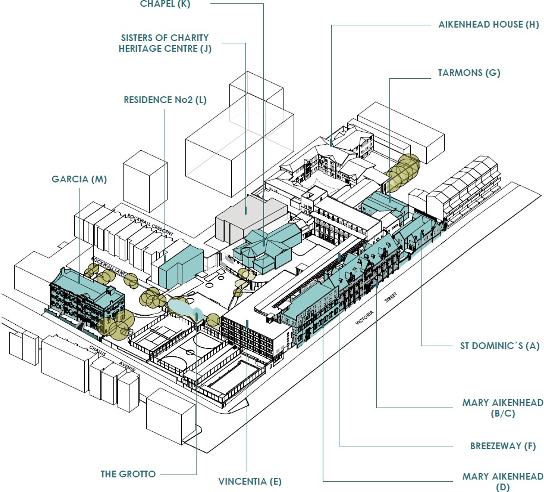 Existing Site - Heritage Items

Item Name: St Vincent's Convent Group
Heritage Type: General
Significance: Local
Item Number: 11191
EPI Name: Sydney Local Environmental Plan 2012

Item Name: Potts Point
Heritage Type: Conservation Area: General Local
Significance: Local
Item Number: C51
EPI Name: Sydney Local Environmental Plan 2012

Item Name: Former Convent 'Bethania' & 'Carmelita
Heritage Type: General
Significance: Local
Item Number: 11122
EPI Name: Sydney Local Environmental Plan 2012

Item Name: Terrace Group
Heritage Type: General
Significance: Local
Item Number: 11173
EPI Name: Sydney Local Environmental Plan 2012
Existing Site - Circulation
Legend
-----> Covered
-----> Uncovered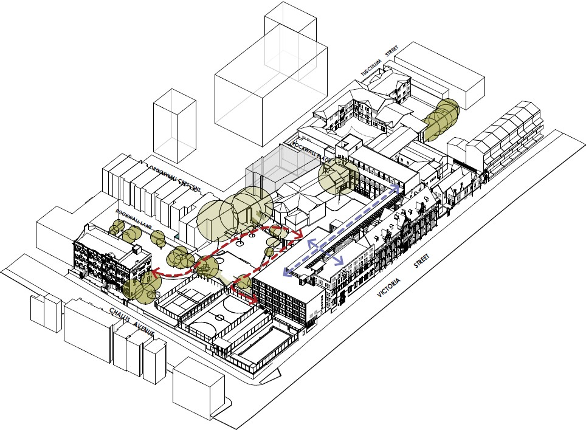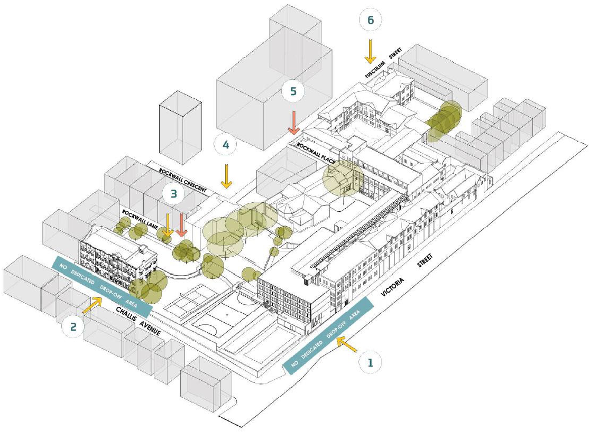 Existing Site - Access and Entry
Legend
<----- Pedestrian Entry
<----- Vehicle Entry
1. Main Student and Staff Entry
2. GARCIA (M) Building Entry
3. Contractors Entry after hours
4. Visitors and Student Entry, Secondary Entry
5. Boarders Entry

The main student entry is from Victoria Street. A visitor entry (and secondary students entry) is via Rockwall Crescent. The visitors entry is located away from the Reception area in the middle of the site


Existing Site - Open Space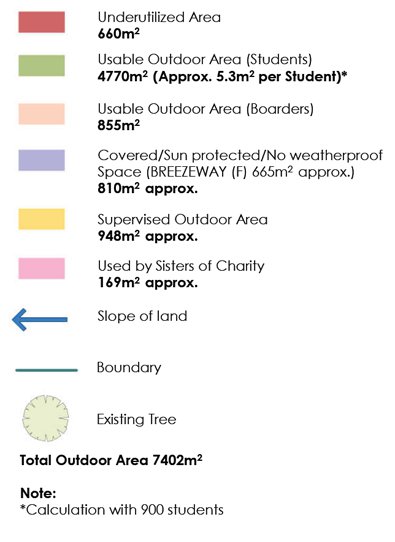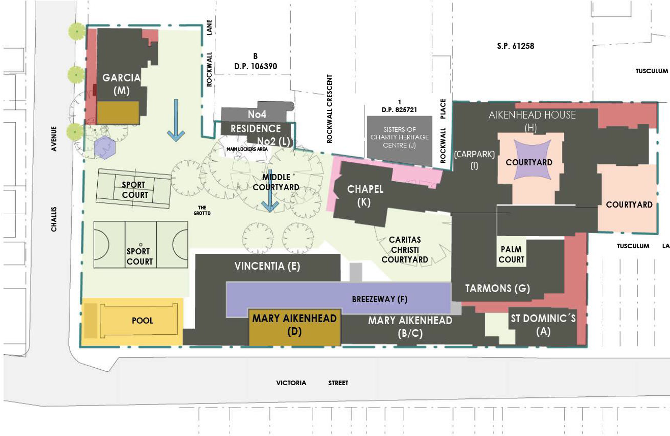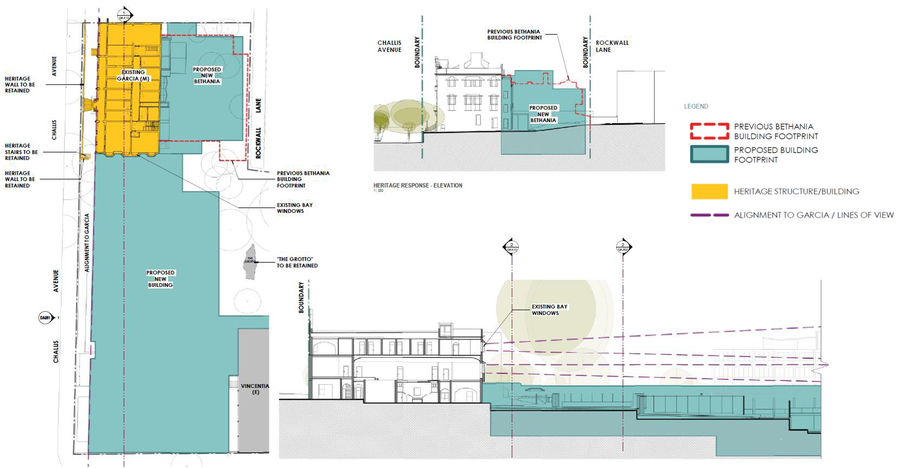 HeritageRelationship with Former Bethania Building
Master Plan Projects
1. Better utilisation of GARCIA (M) Buildings
2. Whole School Gathering and activity scare
3. Staff Areas Refurbishment
4. Improved Campus Experience
5. Better utilisation of Boarding
6. Proposed executive GLA's and Music Facilities, Maintenance Projects
7. Improve Leaming and Teaching Spaces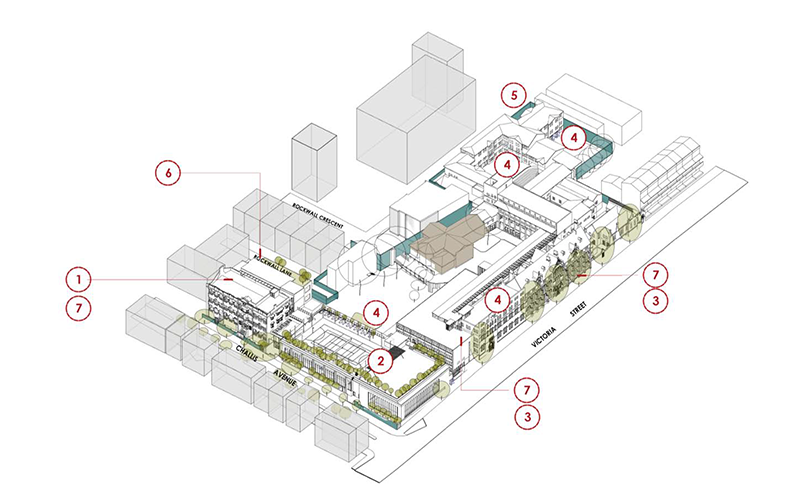 Improved Campus Experience
A nature-infused campus with a green heart. Outlooks to the city skyline are maintained, outlook into the re-landscaped 'green heart' are created, and significant trees are retained. areas of landscape better connected. wayfinding is more intuitive, covered ways are provided throughout the campus. Visitor entry and Admin relocated to Challis Ave to create an improved sense of entry.
Whole School Gathering Place
A place to gather, to celebrate, to pray and to play, accommodating 1000 people. Amenities, kitchen, stage and storage areas are also provided. The Hall is part of a new sporting precinct, including a new larger indoor pool, with shared change room and toilet facilities.
Better Utilisation of Garcia
Garcia is a much-loved building within the College, contributing to the college's character, culture and history. The Masterplan seeks to retain and enhance its cultural and heritage significance. It will be adaptively reused as Administration (Ground and Level 1) and General Learning Areas (level 2). A new school entry will be located in a new building alongside Garcia, on Challis Ave. New lift and stair access will be provided to Garcia via a new atrium and Purpose Built Music building to the South of Garcia, adjoining Rockwall Lane.
Improved Staff Facilities
The well-being of College staff is supported through a combination of purpose-built and refurbished facilities. Administration and reception have been relocated to Garcia, to improve security and a sense of entry. Other staff areas have been distributed at key points around the campus, to allow passive supervision and maintain pastoral care.
Better Utilisation of Boarding
The layout of the existing Boarding House is relocated to levels l & 2, and the Ground Floor is refurbished to become a Year 12 Common Room and shared recreation/meeting area, adjoining newly landscaped shared areas. A 2 bedroom flat has also been established on the Ground Floor and a new 'front door' to the Boarding House, accessed via a newly landscaped courtyard off Tusculum Lane.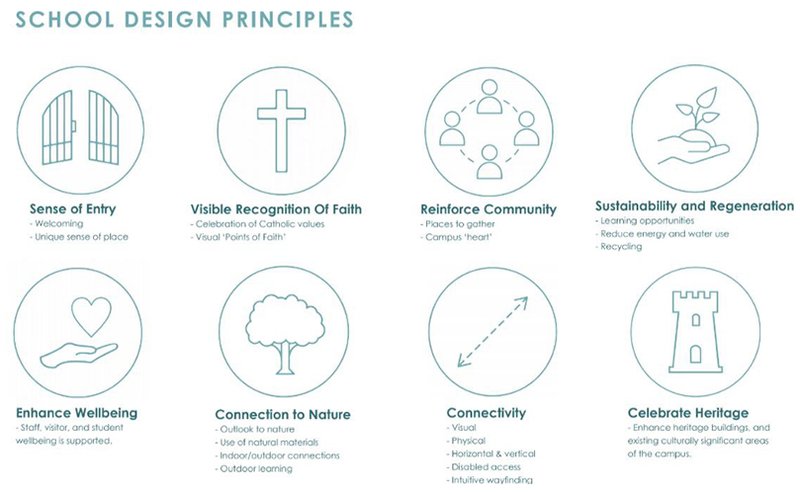 -The Architecture has aimed to support the culture and ethos of the College.
-Sensitively acknowledges Heritage Principles – set-backs, heights etc.
-Draws on the existing materials and rhythms currently utilised on-site.
-Considers overall building height by setting courts and pool below ground level.
-Provides a new main entry location to the school from Challis Street.
-Aims to "Build a Landscape".
The scheme incorporates the following spaces:
Internal competition compliant size multi-sports court facility.
Outdoor competition-compliant size multi-court on the roof top.
The internal pool is compliant for school-girls water polo competition.
Gathering space for assemblies and college performances.
Drama and music learning and ancillary practice/storage spaces.
Lift access to provide inclusive movement through the site.
Change facilities for students and ancillary storage for sports equipment.
Administration spaces with adequate privacy, lighting and contemporary work requirements.
Garcia Heritage building - respectfully refurbished
Rooftop seating area for student/staff relaxation and learning.
Landscape upgrade to provide a better campus experience.
Upgraded boarding facilities for students who call this site home.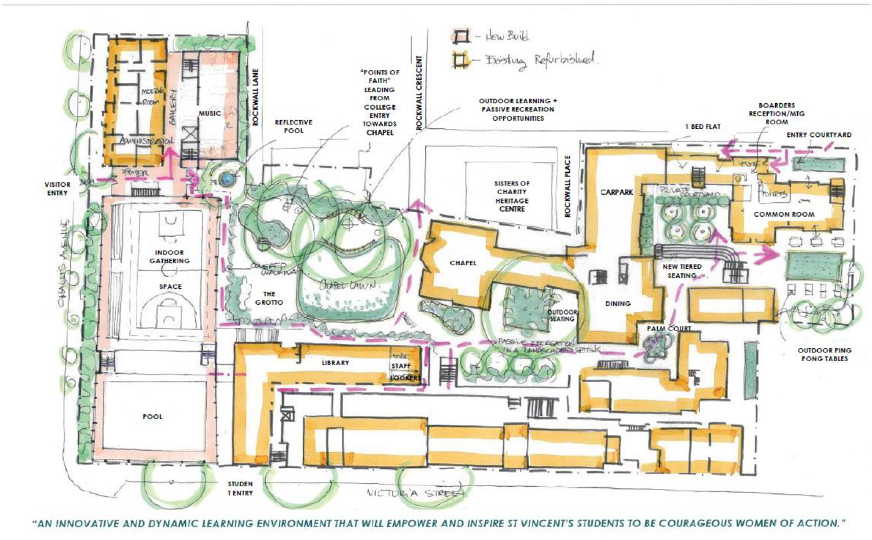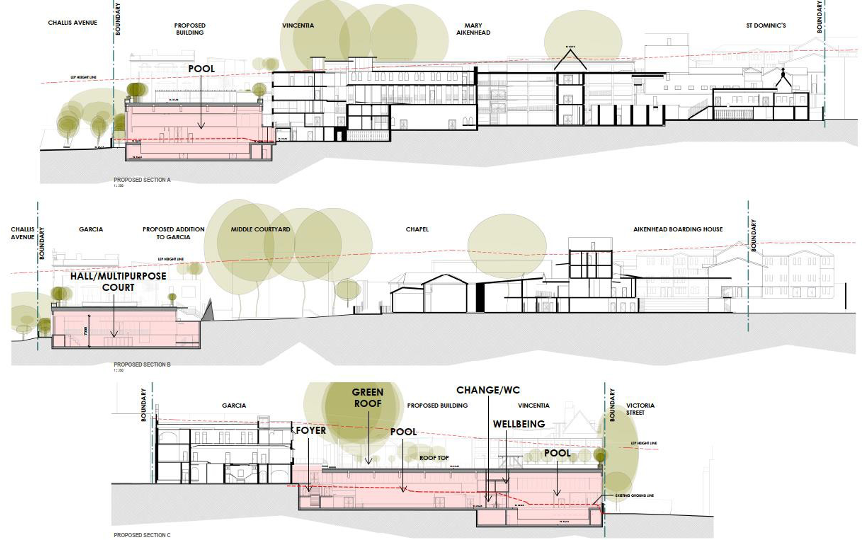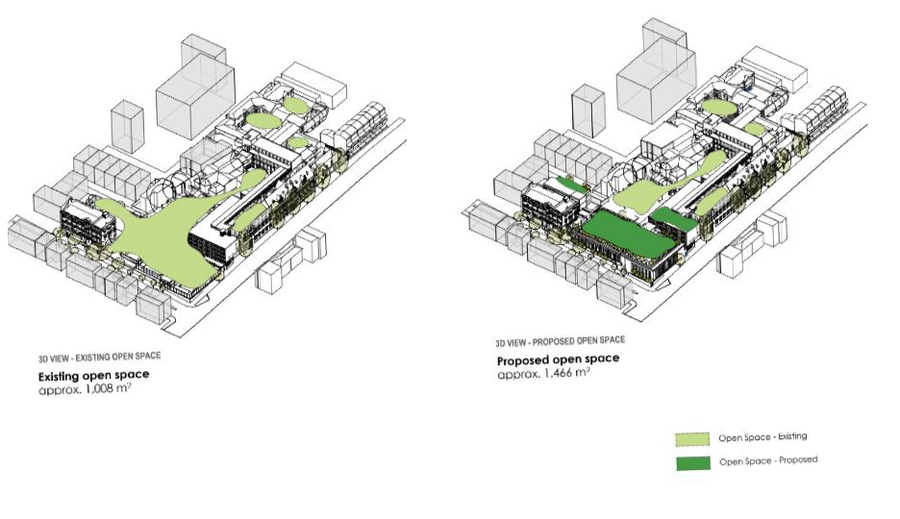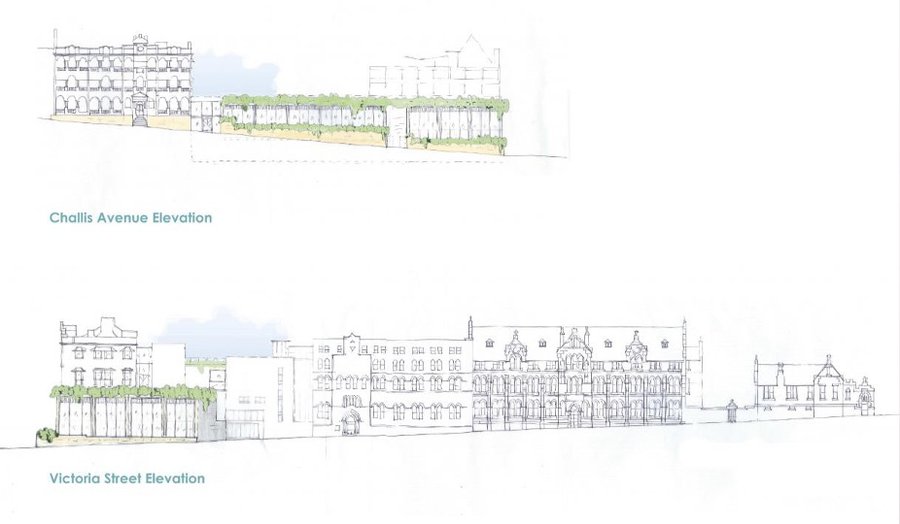 In 2010 the College Board commissioned the development of a Masterplan as the challenges of our College site both in terms of size and historic buildings means development needs to be smart and maximise return.
In late 2013 the first stage of this masterplan was completed with the refurbishment of Tarmons. This project resulted in the addition of twelve new modern classrooms, a new large dance and drama studio, larger work areas for woodwork, textiles and design with state of the art technology, plus broadening the curriculum offered to students with the creation of a Food Technology Kitchen.
The work of the Foundation now focuses on the future, as we look towards funding the next stage which will realise the vision of a new multi-purpose hall that will serve the needs of the community.
Leading Capital Gifts are critical to launching the next phase. These transformative gifts can either be pledged over several years or given as a single gift.
To find out more about the impact of such a gift please contact the Advancement Office. We would be delighted to share more extensively with you the College's plans for the future.
Please join us as we embark on this important undertaking.