Our position allows the students to make maximum use of Sydney's wonderful public learning, cultural and recreational facilities
An education at St Vincent's College is comprehensive with a full academic program plus a busy co-curricular schedule. Boarders take full advantage of these co-curricular activities, as well as participating in the after school and weekend boarding activities.
Our bright and spacious boarding house offers accommodation in twin rooms for Years 7 to 11 and single rooms in Year 12. Indoor and outdoor facilities encourage our Boarders to engage in structured and self-directed community building.
Our experienced and compassionate Boarding Coordinators encourage the Boarders to achieve their true potential. Under their care all manner of personalities learn to live harmoniously in Boarding.
The Boarding community attend a weekly Mass at our local Parish, St Canice's and take active roles in the liturgy.
Afternoon and evening study is structured by learning stage and is supervised by Boarding and Teaching staff as well as Tertiary students.
Ms Maryanne O'Donoghue
Director of Boarding
Maryanne O'Donoghue has been the Director of Boarding at St Vincent's College since 2016. She is a passionate Mathematics teacher and enjoys teaching from Year 7 up to HSC Extension 2 Mathematics. She has fulfilled the role of Head of House and Head of Mathematics over her many years of teaching which has prepared her for the challenges of running a boarding house. Maryanne has had various experiences in boarding across NSW ranging from the rolling hills of the Southern Highlands to the lights of Potts Point. With love, dedication and genuine care she prides herself on maintaining good relationships with both parents and boarders. Ensuring that the community is gaining the full benefits from the boarding experience is a vital ingredient for both personal student growth and the growth of the school. Maryanne is optimistic about the future boarding at St Vincent's College.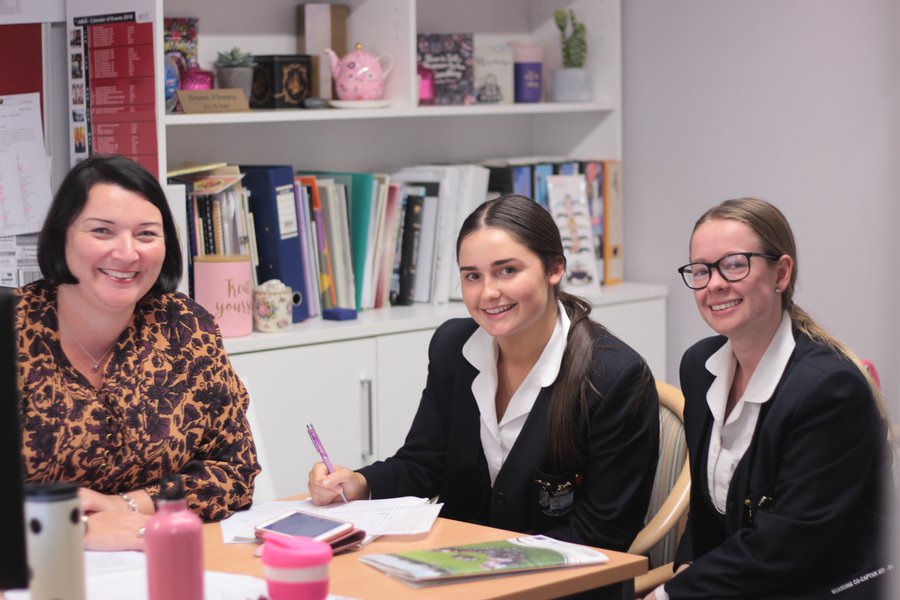 Ms Susan Turner
Deputy Head of Boarding
Susan's association with St Vincent's dates back to 2014. Her experience in residential education has been honed by her time working at a boarding school in England. She has qualifications in nursing, education and psychology (with a focus on educational psychology) as well as undertaking studies in complementary medicines.
Susan has a lifelong commitment to learning and lives by her key vision: to take advantage of each teachable moment; guide girls towards self-sufficiency and resilience and ensure they have the capacity to make their way in the world beyond school; and support their learning and self-belief.
Susan also indulges in her passion for music during her spare time.
Ms Linda McCabe
Boarding Coordinator
"I have been at St Vincent's since January 1995 and have enjoyed every minute of my time here. We have wonderful girls and families and I am blessed to be a part of the community where there is such open communication for us, the girls and their families. Born in South Africa, I came to Australia as a Home Economics teacher in 1991 to be with my family and I became an Australian citizen in 1993."