Thank you for celebrating this important milestone with us!
Our extraordinary history has always been an important part of St Vincent's College. Our story reveals so much of our unique character and how we arrived at this point.
Thanks to everyone who has so generously supported the Foundation in the past 30 years. We would like to acknowledge the impact their generosity has made in the lives of others.
GENEROSITY OF SPIRIT THROUGH THE DECADES
For 30 years, the St Vincent's College Foundation has been connecting supporters, upgrading College facilities and empowering new generations of courageous women of action through scholarships and bursaries.
To celebrate this milestone we acknowledge many of the College community leaders and supporters who have helped make the work of the Foundation possible.
Embarking on the Journey in 1991
As one of the oldest schools in Australia, St Vincent's College is also one of the few that occupies its original historical site— still nestled in Victoria Street, Potts Point where its doors first opened on 1 May 1858.
Our College grounds comprise a blend of beautiful heritage structures, some dating back to the 1800s, merging with our more modern and recently restored buildings. The heritage buildings were not always as well-maintained as they are now.
It was the late 1980s when Sister Margaret Beirne joined the College as its Principal. The Boarding House was deteriorating and the ceilings had collapsed. Sister Margaret made the urgent repair of the Boarding House her main priority.
The journey of securing the Boarding House repair was not an easy one. At the time, the economy suffered its worst recession since the Great Depression. Sister Margaret established a committee to ensure the ongoing viability of the College.
The Committee recommended the establishment of the St Vincent's College Foundation. Sister Margaret then appointed Lady Angela Carrick as its first Chair. Sister Margaret and the Foundation Board worked together to source funds for the Boarding House redevelopment. They successfully gained a Commonwealth grant of $1.5 million and received considerable support from parents and the Ex-Students' Union. Their efforts made the redevelopment of the Boarding House possible.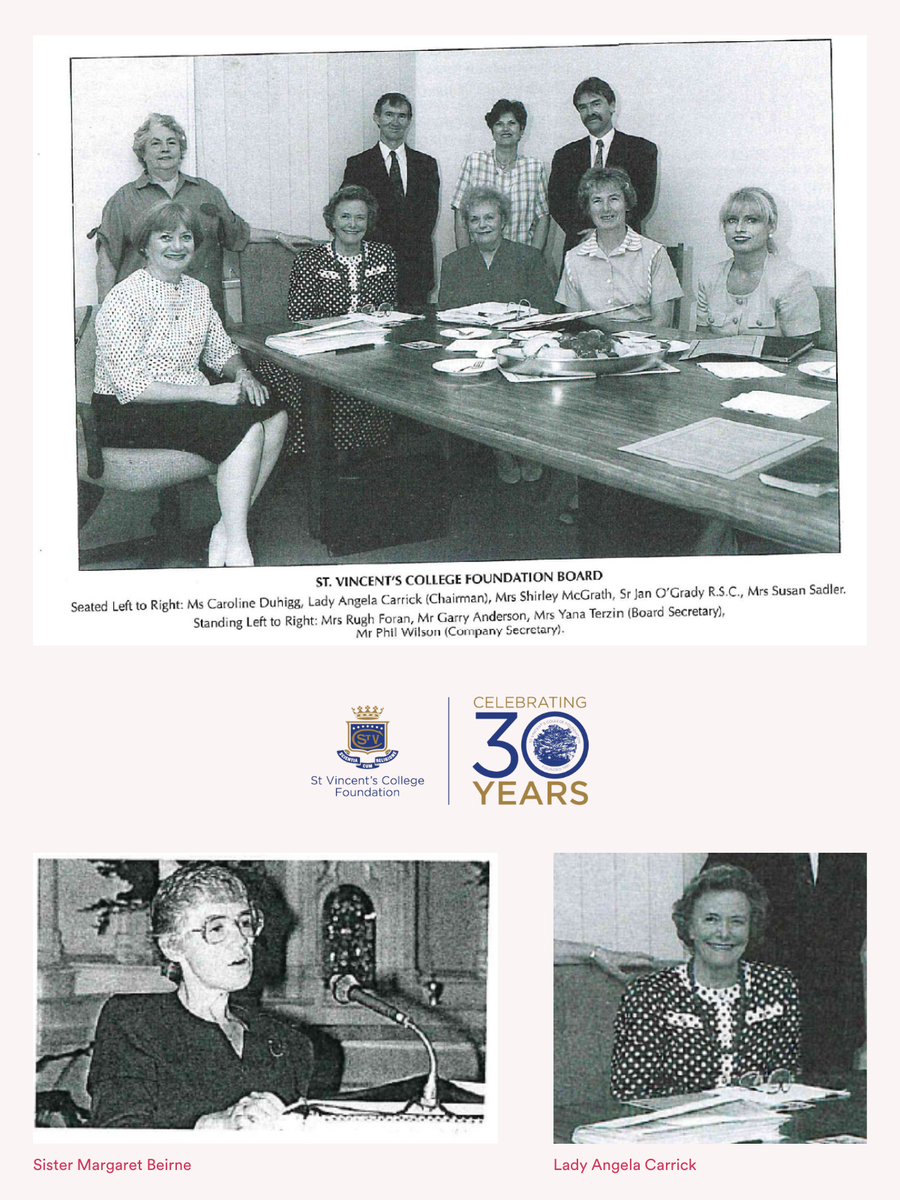 ---
"In 1987, when plans were very much only a dream, we wondered how we would ever have the money to even begin. When we review all of these achievements, we realise that they are the fruit of a fine use of God-given talents and, above all else, we acknowledge this with gratitude in our hearts. We also recognise that talents, hard-work and determination are only part of the story; the rest belongs to our many supporters: the parents, staff and ex-students of the College. St Vincent's could not function without the consistent support and confidence of our many parents and friends, especially those who assist with the Canteen, the Committee-members of the Parents' and Friends' Association, the Boarders' Parents Auxiliary, the Ex-Students, the Building and Finance committees, and the Board of Directors of the College Foundation. So often, we only become aware of their efforts in the successes of social and fundraising events, (and when there's plenty to eat at the tuckshop!) Behind the scenes are literally hours of planning and sheer hard work for which we can never be sufficiently grateful."
- Sister Margaret Beirne, Principal of St Vincent's College (1984-1993)